Dear visitor,
Welcome on the website of the Septentrion Academic Press. Located in Lille, France, Les Presses Universitaires du Septentrion aspires to publish and diffuse academic works in France and abroad. Whether on a paper or numeric format, those works showcase the current state of academic research and are addressed to an informed audience, interested by human and social sciences, legal and political sciences as well as natural sciences.
The leading public publisher North of Paris, Septentrion appraises French and foreign manuscripts thanks to the commitment of a whole scientific community and brings forth works attractive both in their sharp contents and aesthetically-pleasing covers.
On this website, you will be able to peruse and order from the house's catalogue as well as subscribe to affiliated specialized magazines. This is also the place to learn more about publications to come and, if you would like to keep up with our latest news, find direct link to our social media accounts and newsletter.
The whole Septentrion team thanks you for stopping by and wishes you a pleasant visit as well as enriching reading experiences.
Books of the month
It is primarily through discourses that individuals, social groups and institutions proclaim, use and reconfigure their identities (individual, social, professional, political, national, ethnic, etc.).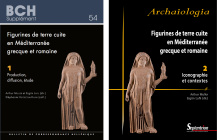 Archaiologia
Research on ancient terracotta figurines underwent a deep evolution in its methods and questions: this book is the striking testimony of this recent change.
Histoire et civilisations
If the history of death has given rise to many and great works for the last forty years, the history of the fate reserved for the dead body remains little known.

Archaiologia
Biographic dictionary of the archaeologists of the region "HAUTS DE FRANCE", native of our five departments or who searched there as these officers of the German or British troops. We will thus find known names as Boucher de Perthes, Auguste Mariette but also names of numerous volunteer archaeologists.

Arts du spectacle - Images et sons
Russian, European and American specialists contributed to this volume on contemporary Russian cinema of the 1990's and the 21st century. It explores the favourite themes, the aesthetic innovations of this cinematography, as well as it's relationship with it's audiences and the State.

Histoire et civilisations
The French minister for Foreign Affairs Théophile Delcassé might consider that "there were nothing to do but snoring in the French Embassy in Berlin" at the turn of the Twentieth century, serving as a diplomat in the famous French hotel on Pariser Platz at that time was no easy work. Diplomacy on hostile ground left little time to rest, let alone..