Future Releases
Here is a selection of titles that have not yet been published.
1 to 10 of 31.



Histoire et civilisations

Histoire et civilisations
With his compact history of Switzerland, the Swiss historian Thomas Maissen presents the eagerly awaited new overview. Based on the latest research results, he describes in a fluid style the origins of the Swiss Confederation, its extraordinary continuity, but also its many cleavages up to the most recent past. Whoever wants to have the...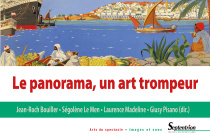 Arts du spectacle - Images et sons

Sneakers
Mode, genre et masculinité, du Bronx à la marchandisation
Le regard sociologique


Métiers et pratiques de formation
The extraordinary of orientation is that it is like « leaving for the Indies and discovering America ». It means searching for one's orient, ton open up oneself to the spiritual dimension of existence. We reveal a hidden dimension of orientation at every step of our life which makes each person the creator of ist destiny ».

Histoire et civilisations


Arts du spectacle - Images et sons